Face Marma Massage w/ Kansa tools:
45min: $85 Focusing on the face, head, shoulder & back regions. All natural, involving no electronic gadgets or harmful radiations or even chemicals, the massage tool is made with the healing metal of India- Kansa. That's where the impressive power of the tool lies – in this golden, historical metal: Kansa.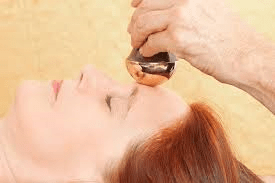 Marma Foot Massage w/ Kansa tools:
30min: $65
Therapeutic/ Deep Tissue:
30min: $50, 60min: $80, 90min: $110
Deep Tissue massage breaks up and eliminates scar tissue. This also aids in the healing process of injured soft tissue. Deep tissue massage focuses on specific areas of the body and may cause soreness during or after a session. However you will feel great after a day or two.
Sports Massage:
30min: $50, 60min: $80, 90min: $110
Sports massage, similar to Deep Tissue breaks up and eliminates scar tissue with the addition of assisted body stretches which aid in the healing process of injured soft tissue. Sports massage focuses on specific areas of the body and may cause soreness during or after a session. However you will feel great after a day or two.
Swedish/ Relaxation Massage:
30min: $50, 60min: $80, 90min: $110
A light touch designed for relaxation.
Prenatal:
90min: $110
Prenatal massage is specifically designed for the special needs of the mother to be. Release low back, neck and shoulder tension. Improves circulation and reduces hand and foot swelling. A doctor's approval is recommended.
How prenatal massage differs from regular massage;
Prenatal massages are adapted for the anatomical changes you go through during pregnancy. In a traditional massage, you might spend half the time lying face-down on your stomach (which is uncomfortable with a baby belly) and half the time facing up (a position that puts pressure on a major blood vessel that can disrupt blood flow to your baby and leave you feeling nauseous).
But as your shape and posture changes, a trained massage therapist will make accommodations with special cushioning systems or holes that allow you to lie face down safely, while providing room for your growing belly and breasts. Or you might lie on your side with the support of pillows and cushions.
Always communicate with your therapist about what feels good — and if something starts to hurt. Our Massage Therapists are Certified in Prenatal Massage.
Hot Stone Massage:
90min: $130.00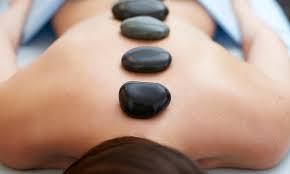 An ancient Chinese technique, hot stone massage is the perfect modality to soothe, relax and de-stress on the massage table.
Synergy Stones are heated to approximately 125-135 degrees prior to your session. After warming your body with some traditional Swedish Massage techniques, your massage therapist will use the stones as an extension of their hands to massage your muscles. The stones will warm your body and loosen your muscles to allow for a release of tension and stress without adding extra pressure. The feeling is both highly relaxing and therapeutic.
New  Massage  Service
Enhance your massage with CBD Oil Full Body* $20
*Full Body can be added to a 60-90 minute massage
CBD Oil Infused Massage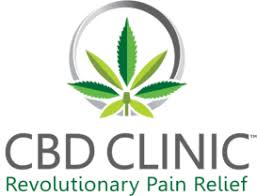 *After a few weeks of trialing our CBD infused massage oils on clients (thank you for being our guinea pigs – you know who you are), we have decided to officially offer it at Wicked Good Wellness! Our clients have been raving about how exceptionally calm and relaxed they feel after their session.  Naturally, we want to open this experience up to anyone interested in having a CBD infused massage. Clients must call our office (508) 339-1418 to request this.
After a decade of research and development, a major breakthrough in topical pain relief in now a reality.CBD Clinic is a revolutionary Pain Relief cream and is the first and only family of FDA-registered topical medications formulated with cannabidiol (CBD)-derived CBD oils contain a minuscule amount of THC (no more than .3 percent) and are used solely for their pain relieving properties.
As some of you may know, hemp oil is a rich source of CBD, or cannabidiol, which has numerous medicinal properties. Although hemp is made from cannabis plants, it's not the same thing as marijuana. If you are looking to get even deeper benefits from your massage, this is a great way to do so. Hemp oil can be used to find relief from arthritis, diabetes, PTSD, MS, epilepsy, and chronic pain. Hemp oil is an analgesic, anti-inflammatory, anti-spasmodic, and anti-nausea treatment that works well for many people.